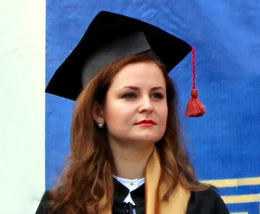 Olena S. Muradyan
PhD in Sociology, Associate Professor
Dean

+380 (97) 113-56-84 (telegram,viber)
socio@karazin.ua
Sociology is not just a "science of society". This is the science about all of us. The School of Sociology teaches a lot: to understand society, to study society, to manage society, to live in society.
But the main thing that sociology can give you is wide opportunities for self-realization. If your diploma says that you are a sociologist, then it will surely open up a great number of ways that will lead you to an exceptional, unique, personal place in society. Welcome to the School of Sociology!
Education level
Foreign Language Entrance Exam

Foreign Language Entrance Exam

Audiovisual Media and Digital Journalism

Foreign Language Entrance Exam
Training of students is ensured by six departments:
Department of Sociology;
Department of Applied Sociology and Social Communications;
Department of Methods of Social Research;
Department of Management Sociology and Social Work;
Department of Political Sociology;
Department of Media Communications.
At the School, there work more than 75 highly-qualified instructors, including an academician of the National Academy of Sciences of Ukraine, 20 full professors, 55 PhDs of sciences, associate professors.
The research groups of the School are headed by the leading scholars:
Vil Bakirov — Doctor of Sociology, Full Professor, Academician of the National Academy of Sciences of Ukraine, Corresponding Member of the National Academy of Sciences of Ukraine;
Svitlana Horbunova-Ruban — PhD in Sociology, Associate Professor;
Tetiana Dublikash — PhD in Sociology, Associate Professor;
Oleksandr Kizilov — PhD in Sociology, Associate Professor;
Liudmyla Sokurianska — Doctor of Sociology, Full Professor;
Lidiia Starodubtseva — Doctor of Philosophy, Full Professor, Merited Doctor of the Research Institute of Theory and History of Architecture and Urban Planning, member of the Union of Artists of Ukraine;
Larysa Khyzhniak — Doctor of Sociology, Full Professor.
The School's students study over 100 different disciplines. In 2011, the School opened a press center, which became the practice base for students studying social communications.
The best students of the School are awarded the honorary world-famous researchers M. Kovalevsky and O. Yakuba scholarships.
The School offers a postgraduate and doctorate programs in a number of fields.
There works the Thesis Committee on three specialities:
Theory and History of Sociology;
Social Structures and Social Relations;
Special and Branch Sociologies.
The School publishes professional journals the University Bulletin, series Sociological Research on Modern Society: Methodology, Theory, Methods, and the collection of academic works "Methodology, Theory and Practice of Sociological Analysis of Modern Society".
The School holds numerous seminars and international conferences on various issues of sociological science and social practice.
The School graduates can engage in research, teaching and expert work in such institutions as:
universities and colleges,
lyceums and gymnasia,
sociological centers,
governmental social services, employment centers,
social psychological services of the armed forces,
advertising and marketing agencies
mass-media,
press services,
public opinion research company.
East-Ukrainian Foundation for Social Research.
Sociological Association of Ukraine.
Research Institute of Social and Humanitarian Studies.